Chlorine Dioxide Water Treatment Suppliers – Sheffield, Nottingham, Derby & Chesterfield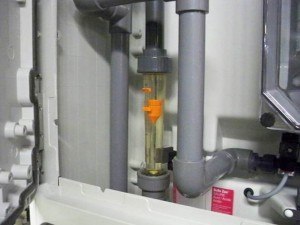 AKVO supply chlorine dioxide and dosing systems are a safe, inexpensive and easy to use means of disinfecting water. Chlorine dioxide (ClO₂) is becoming particularly popular in commercial and residential properties because it acts as a powerful oxidant and biocide, as well as a sanitiser and disinfectant.
Why you should use chlorine dioxide
Chlorine dioxide effectively controls the growth of Legionella and other contaminating micro-organisms in engineered water systems. It is used extensively in the food and beverage industries – in most circumstances it is approved for direct food contact and potable water supplies.
HTM04-01 indicates the use of chlorine dioxide is a prime consideration in many circumstances for NHS sites.
Benefits
Effective against all micro-organisms at very low concentrations
Rapid bacteria killing action
Effective against Legionella
Excellent Biofilm control and removal
Diffuses into biofilm to kill from within
Dosing Options Available from AKVO
Acid Chlorite generators – in many applications the safest & most efficient dosing method
Electrolytic generators from feedstock chlorite solution
Dilute Chlorine Dioxide solution
3% Chlorite solution that requires activation with weak acid
"Stabilised" Chlorine Dioxide – solutions of approx. 2g/l
Chlorine Dioxide Tablets
All of the above dosing methods should be used in conjunction with water treatment monitoring and control equipment – AKVO provides experienced, bespoke guidance for your chlorine dioxide dosing requirement to ensure all processes are safe, effective and compliant.
Call 0333 323 1732 or email office@akvo.co.uk for a FREE on-site consultation and quote.